Megan's 3rd
Original Production
Created by MeganD & Stephen Childs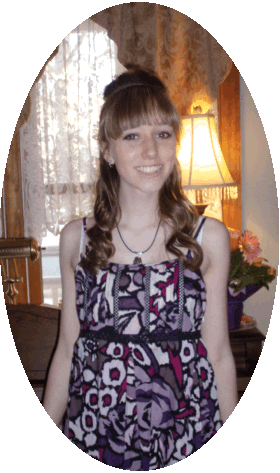 This Page Has Been Viewed
Times.

Track 27 - "One True Friend"
Copyright © 2009 MeganD & Musically Speaking Productions 5-7-2009
Hi, I just wanted to let everyone know I created another song. I wrote this song for my one true friend that I've know for ever, my best friend Libby! Libby is fighting Leukemia and is currently in remission. I have a link on my site www.libbyryan.com that tells you everything about what she is going through. I gave the song to her on her birthday this year. I hope everyone enjoys it!

P.S Tell me what you think in my Guestbook Area!
Right Click Here to Save To Your Desktop
I was there on the morning
When you were born
We have never been apart since that day
And even though days are long
And time seems so short
One thing will always always remain

You will always be my one true friend
And I will always be there for you till the end
And even when you feel you canít stand on your own
Just remember youíll never have to walk alone

Through the years if were lost
We always found our way
Never had to face our fears alone
And although life brings sadness
That seems to hard to face
One thing will always always remain

You will always be my one true friend
And I will always be there for you till the end
And even when you feel you canít stand on your own
Just remember youíll never have to walk alone

And if the roads weíre on
Turn another way
I know weíll find a path
That will lead us to a brighter day

You will always be my one true friend
And I will always be there for you till the end
And even when you feel you canít stand on your own
Just remember youíll never have to walk alone

Copyright © 2009 MeganD & Steve Childs "Musically Speaking Productions
---
Copywright © 2009 www.musicallyspeakingonline.com


Copyright © 2008 by C&C Computer Designs L.L.C. All rights reserved.
Home Revised: 27 Feb 2015 08:26:51 -0700. Repairs WebDesigns
856-232-2242 or 856-227-3322
Support Page